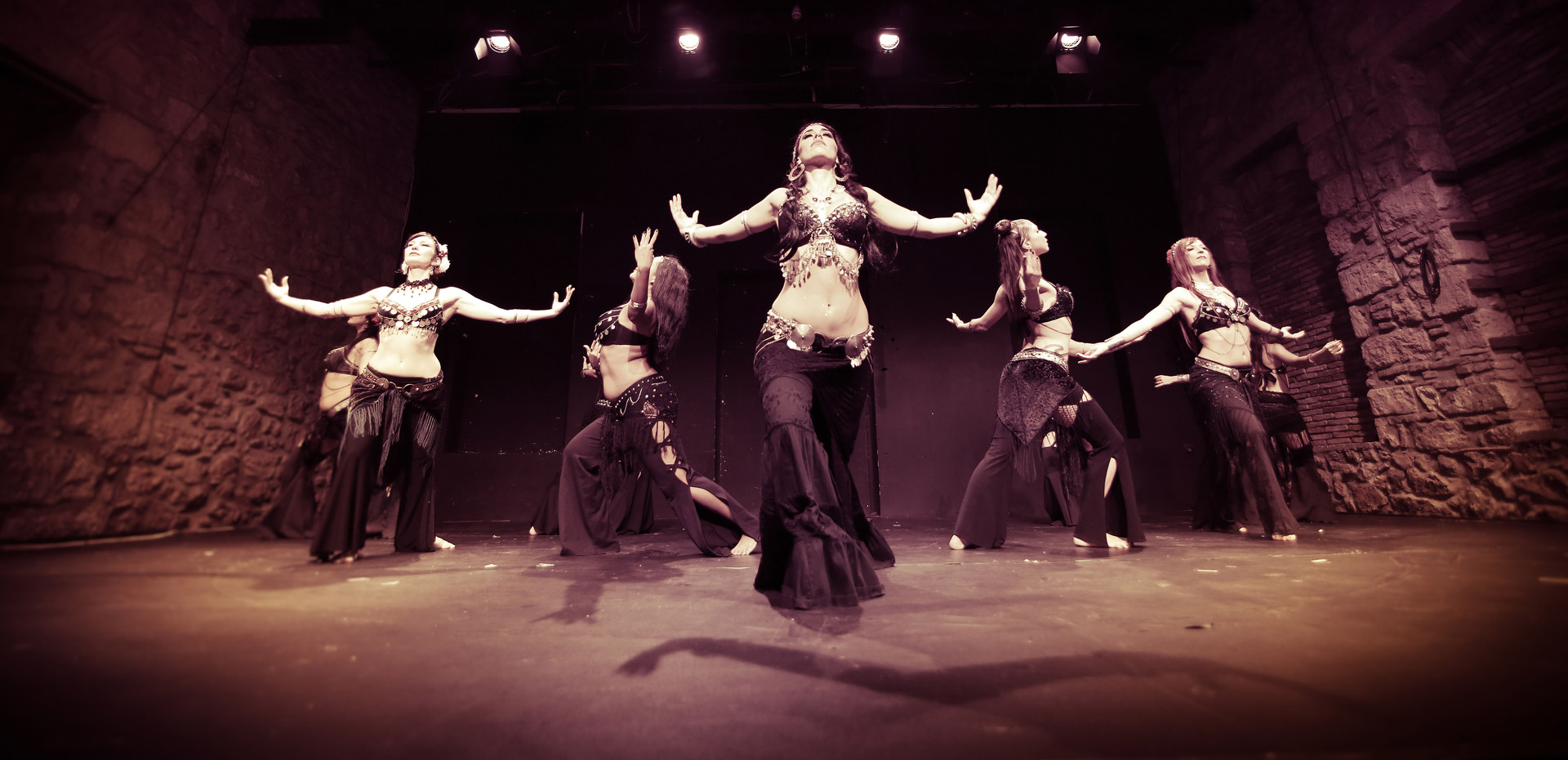 TribalNatyam Festival 2017
October 21st & 22nd
HURRY UP for the Early bird packages until September 30th!
TRIBALNATYAM Gr Festival, our annual Tribal community meeting in Athens, Greece, is back with an EPIC 4th edition!
A Fusion Bellydance Weekend with the amazing
Elizabeth Strong and Dan Cantrell from California, U.S.A.,
Lamia Barbara from Palermo, Italy,
Cintia Dairnic from Madrid, Spain,
Erifily Nikolakopoulou, and Kalypso Mani from Athens
WORKSHOPS · SHOW · HAFLA
CONTACT INFO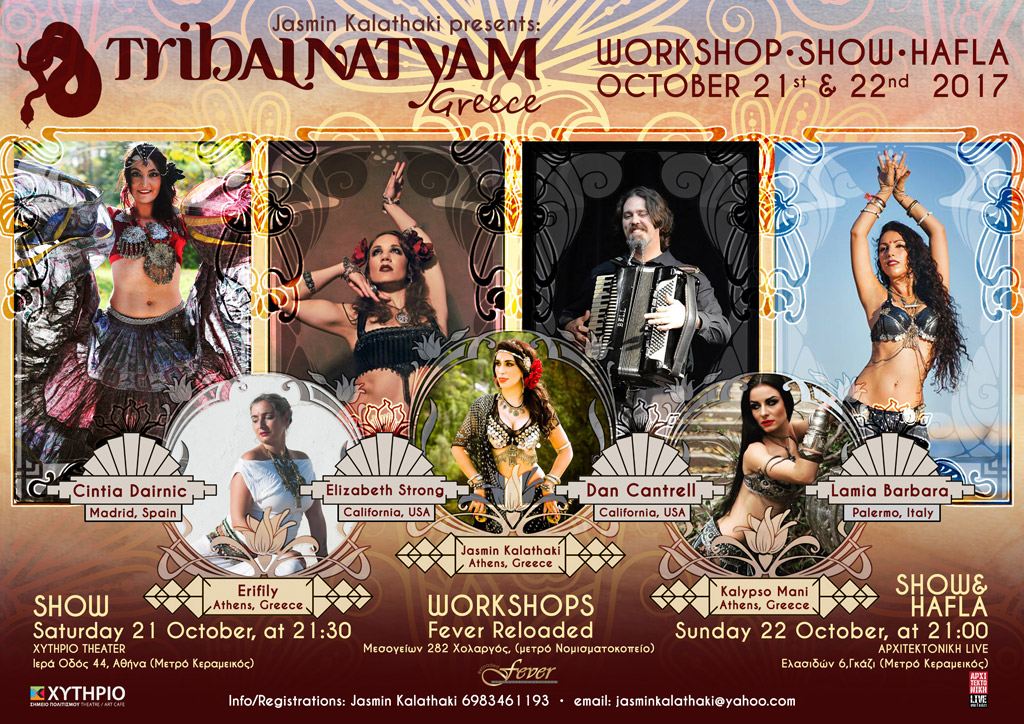 Saturday, October 21st, 2017
SCHEDULE
Workshops will take place at Fever Reloaded, Mesogeion 282, Holargos, Athens Click for map
All participants of the workshops will be awarded certificates of attendance!
11:00am - 12:00pm


Cintia Dairnic
"Play, Pause , Rewind, Forward" Fusion Choreography
Dancers will learn a short choreography using the following various types of movement qualities to enrich your repertoire. We will play in a normal speed, stop our movement as if frozen, fast forward or rewind back in slow speed – the possibilities are limitless!
---
12:10pm - 02:10pm


Elizabeth Strong & Dan Cantrell
Musicality for Dancers with Live Music
During this two hour class we will explore musical concepts such as song structure, maqam and improvised solos. Together we will explore and analyze the feeling of scales, rhythms and musical phrases. There will be plenty of opportunity to dance to live accordion played by Dan Cantrell! A hand out will be provided.
* Please bring a notebook and pen.
---
02:20pm - 04:20pm


Lamia Barbara
"A Tasteful Blending" Original Choreography
The main concept about Fusion Bellydance is its continuos and ever-growing blending nature. Taking inspiration from her studies in contemporary dance, theatre and Classical Indian Dances, Lamia has created a funny and challenging choreography with unique sequences of movement.
---
04:30pm - 05:20pm


Kalypso
Stage Make Up class for Fusion Bellydance Show
In this workshop we will learn all the steps for a complete stage makeup for a 20's smokey eyes look. Learn the preparation before the make up, how to apply the foundation,eye shadow, eyeliner, eyelashes and more. Bring your make up and a notebook.
---
09:30pm


SHOW
Chitirio Theater
Iera Odos 44, Athens (Keramikos Metro Station) - click for map
Tickets: €12
Sunday, October 22nd, 2017
SCHEDULE
Workshops will take place at Fever Reloaded, Mesogeion 282, Holargos, Athens Click for map
All participants of the workshops will be awarded certificates of attendance!
11:30am - 12:30pm


Erifily
Movement Awareness for Dancers
We move by sensing our bodies. This workshop is about honing our senses. Through Yoga & Feldenkrais lessons we will become more aware of our anatomy and the mechanics behind movement. This will allow us to clarify our technique and boost our creative freedom.
---
12:40pm - 02:40pm


Lamia Barbara
Dance Off Your Brain
Turn off your brain and dance with the flow! A workshop with less talking and more dancing. Follow Lamia's meditative movements, empty your mind and experience the beauty of dance!
---
02:50pm - 03:50pm


Cintia Dairnic
Let's Duet! A.T.S.®
Let's learn the basic keys to improvisation in a duet with ATS® duets are a beautiful opportunity to create a fantastic atmosphere with your dance partner. In duets we can be generous, take risks, and enjoy dancing together! Dancers will learn some basic ATS® steps and how they can be applied gracefully to duets. Keep the eye contact and Let's Duet!
* A basic level of ATS® is strongly recommended but not mandatory.
---
04:00pm - 06:00pm


Elizabeth Strong
"Oldschool Tribal Bellydance" Choreography with Finger Cymbals
Learn Elizabeth's signature combos and twist your mind/body connection as we add finger cymbals to soak the music in more deeply. This class is upbeat, and a fun way to get your heart rate going! We will also enjoy a great warm up and drills.
Bring finger cymbals and a water bottle!
---
08:00pm


SHOW & HAFLA
Architectoniki Live stage
Elasidon 6, Athens (Keramikos Metro Station) - click for map
Tickets: €10